The Mi Unlock Tool v3.5.1128.45 is the latest version, available for all the Xiaomi devices including Redmi Note 8 and all new devices. Before downloading, you must know about the advantages of. Redmi Reset Mi Cloud MTK. Xiaomi Redmi 9 Prime (lancelot), Xiaomi Redmi 9 (lancelot),Xiaomi Redmi Note 9 (Merlin),Xiaomi Redmi 10X 4G (merlin) Oppo Remove Demo. Lenovo Tab 7 (TB-7304F), Lenovo Tab 7 (TB-7304I&X), Lenovo Tab 4 8 Plus (TB-8704V) Added Tab Android. Read Package Apk, Uninstall List Apk (No Root ).
Home
FRP Tools
Big Xiaomi Unlock Tool – Unlock Bootloader / FRP / Bypass Mi...
Big Xiaomi Unlock Tool one of the best programs for bypass Google account verification, Unlock Xiaomi bootloader and remove Mi account from almost all Xiaomi devices, This tool helps you access your Xiaomi device when you forgot your Google account after resetting your phone.
If you are a user of Xiaomi phones, so you are looking for download Big Xiaomi Unlock Tool, this tool is very useful for those who want to Unlock the bootloader, bypass the Mi account, or bypass FRP, you can perform these process through this tool easily and safely, Just Download Big Xiaomi Unlock Tool.
Read More: Motorola FRP Tool 2020 – Moto Frp Unlock Tool Download
Note: Before running the tool, be sure to disable the anti-virus program in order to be able to use the Big Xiaomi Unlock Tool program
Download Xiaomi FRP Tool
Here you can download the Android FRP Tool. All Xiaomi devices work well with this Xiaomi FRP Tool.
File Name: Big Xiaomi Unlock Tool.rar by bypassfrp.net.rar
Size: 95.9 MB
Supported OS: Windows
Download Link: Xiaomi Unlock Tool.rar Password: bypassfrp.net
How To USE Xiaomi FRP Tool
You need to reboot your Xiaomi device to Fastboot mode.

Power OFF your Xiaomi device
Hold The Volume Up key & The Power key and Connect your Xiaomi mobile to the PC.
You can Unlock MI Account from this Xiaomi mobile: Mi 5 (Gemini), Mi 55 Plus (natrium), Mi 55 (capricom), Mi 6 (sagit), Mi 6 (wayne), Mi 8 (dipper), Mi 8 SE (sirius), Mi Note 2 (scorpio), Mi Max 2 (oxygen), Mi Max 2S (Polaris), Mi Max 3 (nitrogen), Mi 8 Pro (Equuleus), Mi Max Prime (helium), Mi Max (hydrogen), Mi Mix 2 (Chiron), Mi Mix (lithium), Mi Note 3 (Jason), Poco F1 (beryllium), Note 5 Pro (whyred), Note 4 (Mido), Redmi 5A (Riva), Redmi 5 Plus (Vince), Redmi 5X (tiffany), Redmi 6 Pro (sakura), Redmi Note 3 (kenso), Mi A1 (Tissot), Mi A2 (jasmine), Mi A2 Lite (daisy), Redmi 3 Pro (ido), Redmi 3s (land) , Redmi 4 (prada), Redmi 4a (Rolex), Redmi 4X (santoni), Redmi 5 (rosy), Redmi Note 5a (ugglite), Note 5A Prime (ugg), Note 6 Pro (tulip), Note 7 (lavender), Redmi S2 (ysl), Redmi 7 (onclite), Redmi Go (tiare),
You can Unlock Bootloader from this Xiaomi mobile: Mi Max 2, Mi Max 3, Mi 4c, Mi 8 Lite, Mi 9 Se, Note 3, Note 3 Pro, Redmi Note 5a, Redmi S2, Xiaomi Redmi 3, Redmi 3 Pro, Redmi 3, Redmi 3x, Redmi 4 Prime, Redmi Note 7, Redmi Note 5a Prime, Mi A1, Mi A2, Mi A2 Lite, Redmi Go, Pocophone f1, Redmi 3s.
You can Unlock FRP Google account from this Xiaomi mobile: Mi 6, Poco F1, Mi 8, Mi 8 Pro, Redmi 6 Pro, Note 5 Pro, Note 6 Pro, Mi Mix 2s.
If you have any other questions, feel free to ask it in the comments.
Redmi Note 4 Pattern Unlock Tool
Read Also: Download Mi Account Unlock Tool
"Getting 86021 error in Redmi Notice 4 while unlocking bootloader","Redmi Note 4 Unlocking Bootloader stuck on 99 percent" or becoming"Bind your device" error while unlocking bootloader your mobile phone. These are a few of the biggest problems Miami phone users are facing in the time of Unlock. So todayI'm writing this tutorial after a great deal of trial and error which can help you fix these mistakes on your Redmi Note 4. These hints will work on almost any Xiaomi mobile and allow you to successfully unlock the bootloader of your Mi Phone. As you guys know that each one of the Xiaomi mobiles comes with the locked bootloader and several users want to root their phone or wish to install some custom ROM on the telephone. So to do this first you need to unlock the bootloader of your Redmi Note 4.
Requirements: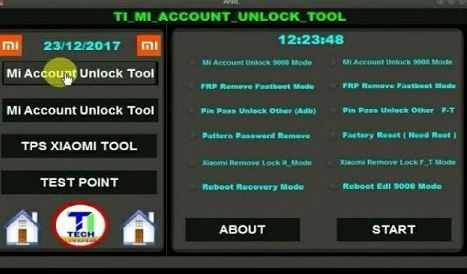 Install Xiaomi Redmi Note 4 USB Driver USB Driver on the PC.
Enable USB Debugging on Xiaomi Redmi Note 4, OEM Unlocking & Add your account in Mi Unlock Status.
Steps To Unlock Bootloader Redmi Note 4:
First Step: Unlock Your MIUI Account for Xiaomi Redmi Note 4-
The first thing you need to do is going to the link: http://en.miui.com/unlock There it's possible to get your unlock permissions from the MIUI Account you're using. It's better to use a Mobile Number based accounts compared to an E-Mail ID-Based account.
Once you obtained a form, fill in your own details. Here you will have to mention why would you want to unlock your telephone bootloader. Otherwise, they may deny your application.
Once you submit the application (few hours to a couple of days), they will notify you via SMS telling you your account is ready for unlocking.
Redmi Note 4 India
Second Step: Download the MiFlash Tool For Xiaomi Note 4-
Visit the same link from earlier: http://en.miui.com/unlock This time they'll provide you a download link to your MiFlash tool.
Download the zip file and then unzip it.
Now, install the MI Drivers. Ensure you right-click the file and select Run As Administrator.
Third Step: Enable Developer Options For Xiaomi Note 4-
Redmi Note 4 Battery
Redmi Note 4 Frp Unlock Tool
On your Redmi Note 4, go to Settings > About Phone > Tap the MIUI Version 7-8 times.
When you enable the Developer Options, a toast message will notify you.
Currently, access Developer Options by visiting Settings > Additional Settings > Developer Options. Sign in with your MIUI Account. Ensure you use the exact same one from the very first step. Also, insert the SIM card of the exact same amount that you have made the MIUI ID with.
Next, you need to use VPN to switch to China Servers. PlexVPN is your program which you can use to do that. If you're using a later version of the program (compared to the attached one), pick China Line 2 at the server and press join.
Unlock Redmi Note 8 Bootloader
Final Step: Unlock the Bootloader-
On your pc, Click on the MiFlash tool and run it as secretary.
Fill your MIUI account information, and the tool will assess if you've got a consent to unlock the bootloader. If everything is OK, then it is going to provide you with directions to link your device in fastboot mode. To accomplish this, press the volume down key + Electricity button until a fastboot display shows up.
Currently, the MiFlash tool will ask you for permissions. Grant them, and you are almost there. In 5 minutes it must unlock your Redmi Note 4 bootloader. In certain rare situations, it might show a message saying attempt after 72 or 360 hours. If that's the case, you'll need to wait and try again later.
Finally! In this way, you can successfully unlock the bootloader of Redmi Note 4.
Redmi Note 4 Black
Video Tutorial on How to Unlock Bootloader of Redmi Note 4: