Your new Honeywell Chronotherm III Fuel Saver Thermostat is a precision instrument that's quality-built to give you many years of satisfactory service. Each day of the week can be programmed independently so that, regardless of your schedule, you'll save fuel while automatically maintaining the standard of comfort you require. Get support for Honeywell Home products in the United States here, or select from the list below.If you are in China, please access this support page.
T8611G,R
Chronotherm III
Fuel SaverThermostats
Application
These thermostats provide energy saving control for a 24 Vac multistage heat pump heating/cooling system as indicated in Table 1 and are powered directly from the control transformer. All models have 5-1-1 programming.
As long as AC power is continuously available to transformer, the thermostat will be compatible with most control systems.
The T8611G,R models include SYSTEM and ENRG SAV LEDs near the top front of the thermostat. The SYSTEMLEDlightswhenthethermostatissignalingforheating or air conditioning. The ENGR SAV LED lights during the LEAVE and SLEEP periods.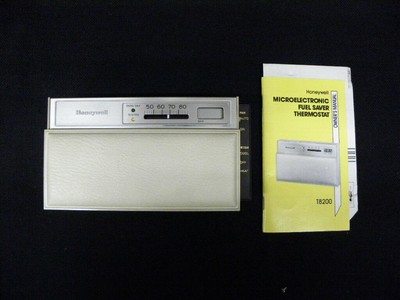 TheAUX.HT.,EM.HT.,andCHECKLEDSarelocated nearthebottomcenterofthesubbase.SeeTable1.TheAUX. HT. LED lights whenever the thermostat is calling for operation of the backup or auxiliary heater. Backup (auxiliary)heatismoreexpensivetooperatethantheheatpumpand typicallyisusedonlywhentheheatpumpisunabletohandle the load. The EM. HT. LED lights whenever the thermostat system switch is in the EM. HT. position. The CHECK LED lights when something needs to be checked to maintain efficient operation of the system. Consult heat pump equipment literature to determine specific meaning of this LED.
Heat and cool anticipation is fixed in all models; no adjustment is necessary. Cycle rates are adjustable for auxiliary heating stage.
TABLE 1—Thermostat Models.
Thermostat

Stages

Switching

LEDs

Changeover

Terminals

Comments

See Fig.

Heat

Cool

System

Fan

T8611G

2

1

EM.HEAT-

ON-

EM.HT,

Auto

R, C/X, L,

—

4

HEAT-OFF-

AUTO

AUX.HT.

W2,E,G,O,

AUTO-COOL

B,Y,X2,X1

T8611R

2

1

EM.HEAT-

ON-

EM.HT.,

Manual

R,C/X,L,

—

5

HEAT-OFF-

AUTO

AUX.HT.

W2,E,W1,G,

COOL

O,B,Y,P

2

1

EM.HEAT-

ON-

EM.HT.

Manual

R,B,X,W2,

Exact

6

HEAT-OFF-

AUTO

E,W1,G,O,

replacement

COOL

H,Y1

for York

model no.

2ET11700224.
Honeywell Chronotherm Iii Manual -ac
Installation
WHEN INSTALLING THIS PRODUCT...
1.Read these instructions carefully. Failure to allow them could damage the product or cause a hazardous condition.
2.Check the ratings on the product to make sure the product is suitable for your application.
3.Installermustbeatrained,experiencedservicetechni-
cian.

4.Allowthermostattowarmtoroomtemperaturebefore operating.
5.After installation is complete, check out product operation as provided in these instructions.
!CAUTION
1.Disconnect power supply to prevent electrical shock or equipment damage.
2.After wiring is complete, push excess wire back into the hole, and plug hole with nonhardening caulk, putty or insulation to prevent drafts from affecting thermostat operation.
LOCATION
Installthermostatandsubbaseabout5ft.[1.5m]abovethe floorinanareawithgoodaircirculationatroomtemperature.
Do not install the thermostat where it may be affected
J.H. • 3-92 • © Honeywell Inc. 1992 • Form Number 69-0348—1
by—
—drafts or dead spots behind doors, in corners or under cabinets.
—hot or cold air from ducts. —radiant heat from sun or appliances —concealed pipes and chimneys.
—unheated (uncooled) areas behind the thermostat, such as an outside wall.
IF REPLACING AN EXISTING THERMOSTAT
Turn off power to thermostat at furnace or heat pump. A two-transformersystemmayrequireturningofftwoswitches or disconnects. Remove any existing wallplate or subbase from the wall. Label or write down each wire color with the letterornumberonthewiringterminalasthewireisremoved, to avoid miswiring later.
IF NEW INSTALLATION
Runacabletoaholeattheselectedwalllocation,andpull about 3 in. [76 mm] of wire through the opening. Color- coded,8-gaugethermostatcablewithoneconductorforeach wiring terminal is recommended. Good service practice recommends selecting cable with one or two more conductors than the immediate application requires.
MOUNTING SUBBASE
The subbase does not require leveling for proper operation, but for appearance only.
Remove thermostat from subbase, see Fig. 1.
Thesubbasemountsdirectlyontothewallwiththescrews included in the package. Use the subbase as a template, and with a pencil, mark the two mounting screw positions, see Fig. 2. Use 3/16 in. bit to drill holes for anchors. Gently tap anchors into holes until they are flush with the wall surface. Threadwiresthroughthecenteropeningofthesubbase.Then mountthesubbaseusingtwoscrewsprovided.Gentlytighten screws level top surface of subbase, then securely tighten screws.
Fig. 1—Removing thermostat from subbase.
SYSTEM
Honeywell Chronotherm 3
EM. HT. HEAT OFF

AUTO COOL

FAN

ON

AUTO

AUX. HEAT

CHECK
M5179A
Fig. 2—Mounting subbase on wall.
WALL
WIRES THROUGH

WALL

WALL OPENING

ANCHORS

(2)
MOUNTING
HOLES
MOUNTING

SCREWS (2)

SUBBASE

M5175
WIRING
All wiring must comply with local electrical codes and ordinances.
Disconnect power before wiring to prevent electrical shock or equipment damage.
The shape of the terminal barrier permits insertion of straight or conventional wraparound wiring connections. Either method is acceptable.
Refer to Figs. 4-6 for typical hookups of subbase and thermostat.
NOTE: Keep all wiring restricted to ribbed area surrounding terminals to assure thermostat/subbase contact, see Fig. 3.
Fig. 3—Keep wiring restricted to ribbed area surrounding terminals.
Honeywell Thermostat Chronotherm Iii Manual
FOR STRAIGHT INSERTION –
STRIP 5/16 in. [8 mm]
RESTRICT

WIRING TO

FOR WRAPAROUND –

THIS AREA

STRIP 7/16 in. [11 mm]
FRONT VIEW OF
TERMINAL AREA
| | |
| --- | --- |
| WIRING TO BE BELOW | TOP SURFACE |
| THIS SURFACE | OF SUBBASE |
CROSS-SECTIONAL VIEW OF

TERMINAL AREA

M3062
Fig. 4—T8611G 2-stage heat/1-stage cool thermostat.
1
L1 L2 (HOT)
Honeywell Thermostat Chronotherm 111
R
C/X
| | |
| --- | --- |
| EM. HEAT | AUX. HEAT |
| LED (RED) | LED (GRN) |
Honeywell Chronotherm Iii User Manual
FAN

L

SWITCH

MONITOR

ON

W2

SUBBASE

THERMOSTAT

AUTO

HEAT 2

AUXILIARY

LOGIC/

LOGIC

CONTROL

HEAT RELAY

CIRCUIT

CIRCUIT

E

EMERGENCY

HEAT RELAY

SYSTEM

SWITCH

EM. HT.

HEAT

G

FAN RELAY

OFF

C.O.

AUTO

O

COOL

CHANGEOVER

C.O.

RELAY (COOL)
HIGH

B

LIMIT

HEAT 1

COOL

CHANGEOVER

RELAY (HEAT)

Y
1 POWER SUPPLY. PROVIDE DISCONNECT MEANS AND OVERLOAD PROTECTION AS REQUIRED.

X1

2

DENOTES THERMOSTAT TO SUBBASE INTERCONNECT.

CHECK LED

3

(YELLOW)

3 POSSIBLE CHECK LED CIRCUITS:

X2

X1

TO R

X1

TO R

X1

L1

CHECK

FAULT DETECTION

CHECK

FAULT DETECTION

CHECK

SWITCHING

(HOT)

LED

LED

LED

SWITCH

DEVICE

1

(YELLOW)

(YELLOW)

SWITCH

(YELLOW)

X2

24 Vac

TO C/X

X2

TO C/X

X2

L2

SWITCH TO R (POWER) SIDE OF

SWITCH TO C (COMMON) SIDE

SWITCH IN SECONDARY OF

SYSTEM TRANSFORMER

SEPARATE TRANSFORMER

OF SYSTEM TRANSFORMER
Honeywell Chronotherm 3 Manual